La presencia de Merleau-Ponty en los estudios del cuerpo y la motricidad humana (The presence of Merleau-Ponty in Body and Motricity's Studies)
Palabras clave:
Fenomenología del cuerpo, percepción, educación corporal, motricidad humana (Phenomenology of the body, perception, body education, human motricity)
Resumen
Se ha afirmado que los trabajos del filósofo Maurice Merleau-Ponty han contribuido a los estudios del cuerpo y la motricidad; sin embargo, esta contribución no es del todo clara. El presente trabajo consiste en explorar algunos modos de presencia de la obra filosófica de Merleau-Ponty en diálogo con dichos estudios. Para lograr esto, se parte de dos análisis realizados por el filósofo en torno al cuerpo y la palabra. Estos análisis permiten identificar algunas tesis fuertes que podrían ampliar la concepción de cuerpo y sus posibilidades expresivas. El artículo concluye con el esbozo de una relación entre las tesis filosóficas del autor con algunos trabajos sobre el cuerpo y la motricidad en el contexto educativo. La conclusión que extraemos de este análisis es que una revisión filosófica de estas disciplinas contribuye a la solidez y vigencia de sus paradigmas.===It has been claimed that the works of the philosopher Maurice Merleau-Ponty have contributed to the studies of the body and motricity; however, this contribution is not entirely clear. The present work consists of exploring some modes of the presence of the philosophical work of Merleau-Ponty in dialogue with these studies. To achieve this, it is based on two analyzes carried out by the philosopher around the body and the word. These analyzes allow us to identify some strong theses that could broaden the conception of the body and its expressive possibilities. The article concludes with the outline of a relationship between the author's philosophical thesis with some work on the body and motricity in the educational context. The conclusion we draw from this analysis is that a philosophical review of these disciplines contributes to the strength and validity of its paradigms. 
Citas
Baldwin, T. (2013). Merleau-Ponty's Phenomenological critique of natural science. Royal Institute of Philosophy Supplement 72, 189-219.
Ballabio, A. (2016). Experiencia y Creatividad en C. S. Peirce y M. Merleau-Ponty. Bogotá, Colombia: Editorial Aula de Humanidades.
Bárcena, F. y Mélich J. (2014). La Educación como acontecimiento ético: Natalidad, Narración y Hospitalidad. Buenos Aires, Argentina: Miño y Dávila Editores.
Casey, E. (1984). Habitual Body and Memory in Merleau-Ponty. En: J. N. Mohanty (ed.) Phenomenology and the Human Sciences (pp.39-58). Dordrecht, Netherlands: Kluwer Academic Publishers.
Cataldi, S. y Hamrick, W. (2007). Merleau-Ponty and Environmental Philosophy: Dwelling on the Landscapes of Thought. Nueva York, Estados Unidos: SUNY.
Dávila, E. y Pinzón, C. (2010). La sexualidad como co-extensión con la vida. En: Grupo Kon-moción (Eds.) Nervaduras de la Motricidad Humana (pp. 70-81). Popayán, Colombia: Universidad del Cauca.
Derrida, J. (2011). El Tocar, Jean-Luc Nancy. Buenos Aires, Argentina: Amorrortu.
Dreon, R. (2016). Merleau-Ponty: From perception to language. New elements of interpretation. Lebenswelt 9, 48-66.
Engelland, C. (2014). Ostension. Word Learning and the Embodied Mind. Londres, Inglaterra: The MIT Press.
García-Baró M. (2012). Elementos de Antropología Filosófica. México. Red Utopía. A.C. Jitanjáfora, Morelia Editorial.
Hale, J. (2017). Merleau-Ponty for Architects. Londres, Inglaterra: Routledge.
Hass, L. (2008). Merleau-Ponty's Philosophy. Bloomington e Indianápolis, Estados Unidos: Indiana University Press.
Heinämaa, S. (2003). The Living Body and its Position in Metaphysics: Merleau-Ponty's Dialogue with Descartes. En: D. Zahavi, S. Heinämaa y H. Ruin (eds.). Metaphysics, Facticity, Interpretation. Contributions to Phenomenology, vol 49. (pp.23-48). Dordrecht, Netherland: Springer.
Inverso, H. (2015). Derivas del "caso Sneider": espacialidad, movimiento y reducción fenomenológica en Merleau-Ponty. Investigaciones fenomenológicas 12, 51-70.
Iribarne, J. (2009). Preservación de sí mismo. La paradoja del centramiento descentrado. En: R. P. Rosmery y Z. Antonio (ed.) Acta Fenomenológica Latinoamericana. Volumen III (Actas del IV Coloquio Latinoamericano de Fenomenología). (pp. 55-66). Lima: Pontificia Universidad Católica del Perú; Morelia (México), Universidad Michoacana de San Nicolás de Hidalgo.
Jaramillo, L. y Aguirre, J. (2012). La percepción y la pregunta por el sentido. Lúdica Pedagógica 17(2), 33-40.
Le Boulch, J. (1997). El movimiento en el desarrollo de la persona. Barcelona: Paidotribo Editores.
Lefort, C. (2010). Foreword. En: Merleau-Ponty, M. Institution and Passivity. Course notes from the Collège de France (1954-1955) (pp.ix-xxxi). Illinois, Estados Unidos: Northwestern University Press.
Levinas, E. (2003). De otro modo que ser o más allá de la esencia. Salamanca, España: Sígueme.
Marshall, G. (2008). A Guide to Merleau-Ponty's Phenomenology of Perception. Wisconsin, Estados Unidos: Marquette University Press.
Merleau-Ponty, M. (1953). Éloge de la philosophie et autres essais. Paris, Francia: Gallimard.
Merleau-Ponty, M. (1957). La estructura del comportamiento. Buenos Aires, Argentina: Hachette.
Merleau-Ponty, M. (1979). Le visible et l'invisible, suivi de Notes de travail. París, Francia: Gallimard.
Merleau-Ponty, M. (1993). Fenomenología de la percepción. Barcelona, España: Planeta.
Merleau-Ponty, M. (2007). Man and Adversity. En: T. Toadvine y L. Lawlor (eds.) The Merleau-Ponty Reader (pp. 189-240). Illinois, Estados Unidos: Northwestern University Press.
Moya, P. (2019). The understanding of the body and movement in Merleau-Ponty. Trans-Form-Acao 42(1), 201-226. doi:10.1590/0101-3173.2019.v42n1.10.p201
Pintos, M. (2009). La interpretación de Freud recuperada desde la mirada fenomenológica de Merleau-Ponty. En-claves del pensamiento, 3(6), 41-60.
Pinzón, C., Jaramillo. L., Aguirre J. & Dávila, E. (2014). Tu amor me hace grande: sentidos del cuerpo sexuado en la escuela. Revista Virtual Universidad Católica del Norte, 43, 98-112. Recuperado de http://revistavirtual. ucn.edu.co/index.php/RevistaUCN/article/view/554/1100
Ramírez-Macías, G. (2018). Hermenéutica heideggeriana aplicada al deporte: Mitsein y aletheia. Cultura, Ciencia y Deporte, 13(38), 167-173. doi:10.12800/ccd.v13i38.1072
Sérgio, M. (1995). Para uma epistemología da motricidade humana. Serie Educaçao Física e esporto. Lisboa, Portugal: Compendium.
Sérgio, M. (2010). O desporto e a motricidade humana. Caderno de Educação Física 9(16), 111-122.
Spurling, L. (2013). Phenomenology and the Social World: The Philosophy of Merleau-Ponty and its Relation to the Social Sciences. Londres, Inglaterra: Routledge. doi:10.1093/sf/58.2.695
Vicente-Pedraz, M. & Brozas-Polo M. (2017). Sexo y género en la contienda identitaria del deporte. Propuesta de un debate sobre la competición deportiva multigénero. Cultura, Ciencia y Deporte, 12(35), 101-110. doi:10.12800/ccd.v12i35.881
Van Manen, M. (2014). Phenomenology of practice: Meaning-Giving Methods in Phenomenological Research and Writing. California, Estados Unidos: Left Coast Press.
Wiskus, J. (2013). The rhythm of thought: art, literature, and music after Merleau-Ponty. Chicago, Estados Unidos: The University of Chicago Press. doi: 10.7208/chicago/9780226031088.001.0001
Woolley, J. (2013). The body as 'Expression and Speech'. En: Interpretative notes on Merleau-Ponty, Phenomenology of Perception. Disponible en: https://www.academia.edu/11117027/Merleau-Ponty_on_Language_ in_The_Phenomenology_of_Perception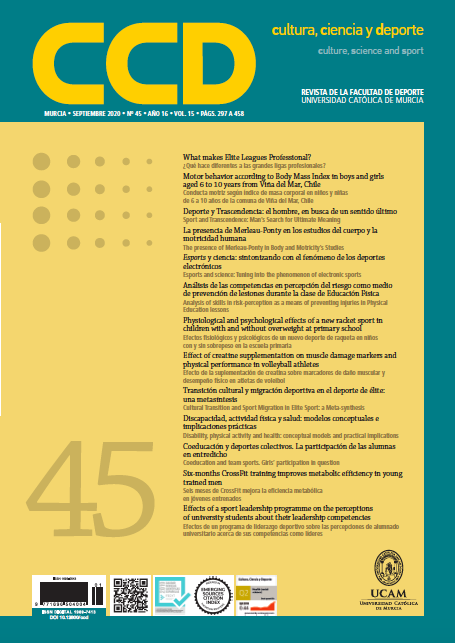 ##submission.downloads##
Cómo citar
Aguirre García, J. C., & Jaramillo Echeverri, L. G. (2020). La presencia de Merleau-Ponty en los estudios del cuerpo y la motricidad humana (The presence of Merleau-Ponty in Body and Motricity's Studies). Cultura, Ciencia Y Deporte, 15(45), 331-340. https://doi.org/10.12800/ccd.v15i45.1511
Sección
Artículos / Articles
Licencia
Los autores que publican en esta revista están de acuerdo con los siguientes términos:
Los autores conservan los derechos de autor y garantizan a la revista el derecho de ser la primera publicación del trabajo al igual que licenciado bajo una Creative Commons Attribution License que permite a otros compartir el trabajo con un reconocimiento de la autoría del trabajo y la publicación inicial en esta revista.