Academic Performance and Competence Perception in Physical Education Final Year Projects
Resumen
The present study aims to examine to what extent the global academic performance achieved in the Degree/Master's Degree determines the level of competencies acquired through the final year project (TFG for Degreesand TFM for Master's Degrees) in Physical Education preservice teacher education (PSTE-PE).The study was conducted based on the replies to a questionnaire that was built ad-hoc on the basis of studiesregarding competency perception scales. The sample consisted of 325 participants from 34 Spanish universities:186 students and 139 graduates. In this study, a comparative correlational design was used, where one variable referred to the perception of (cross-curricular, general teaching and PE-specific teaching) competencies acquired by PSTE-PE students and graduates during their TFG/TFM, and the other one was related to the global academic performance shown by those students and graduates during their Degree/Master's Degree studies. The results confirmed a significant relationship between the students and graduates' global academic performance in PSTE-PE and the competencies examined (crosscurricular, general teaching and PE-specific teaching competencies): the higher the academic performance, the better the competency perception.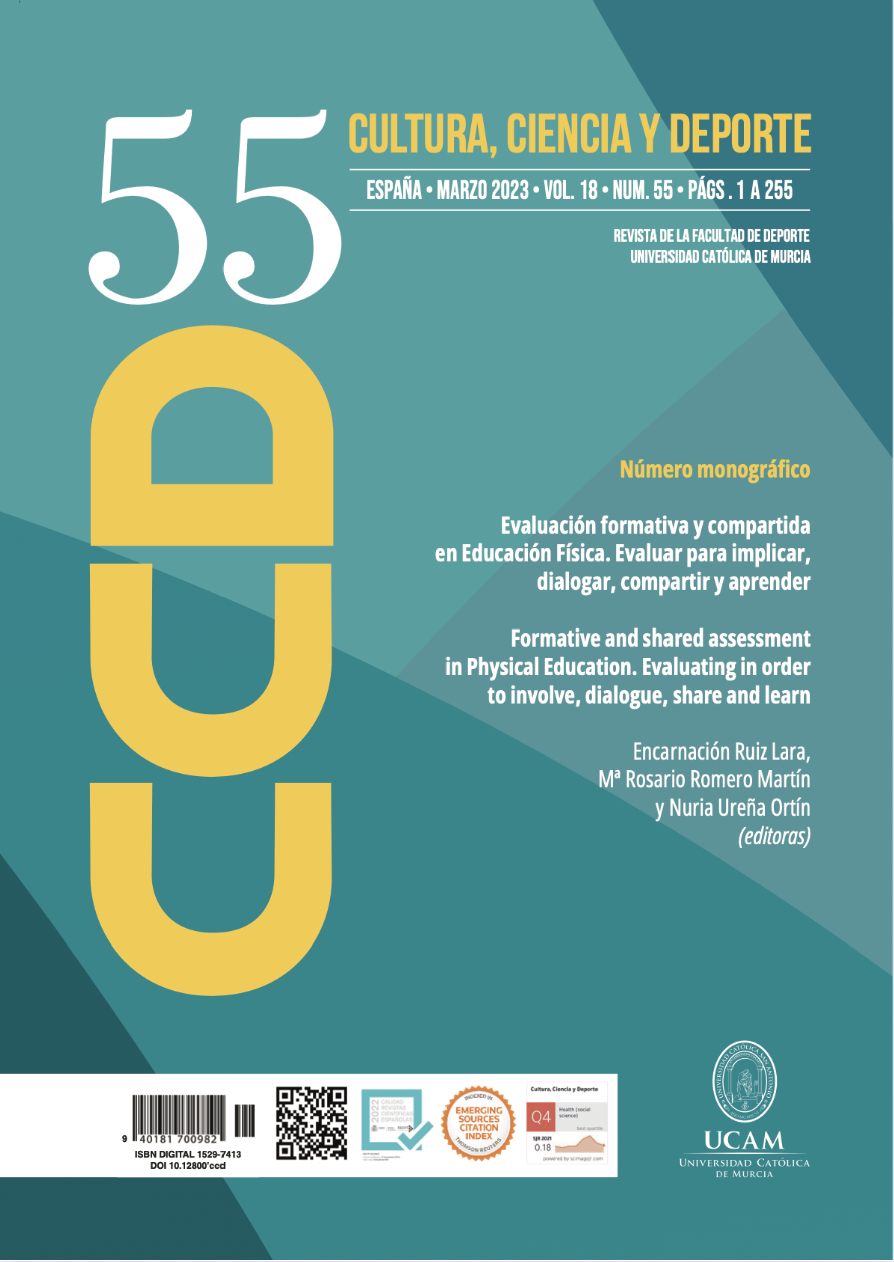 ##submission.downloads##
Cómo citar
Magaña Salamanca, E., López Pastor, V. M., & Manrique Arribas, J. C. . (2023). Academic Performance and Competence Perception in Physical Education Final Year Projects. Cultura, Ciencia Y Deporte, 18(55). https://doi.org/10.12800/ccd.v18i55.1950
Sección
Artículos / Articles
Licencia
Derechos de autor 2023 Creative Commons Attribution License
Esta obra está bajo una licencia internacional Creative Commons Atribución-NoComercial-CompartirIgual 4.0.
Los autores que publican en esta revista están de acuerdo con los siguientes términos:
Los autores conservan los derechos de autor y garantizan a la revista el derecho de ser la primera publicación del trabajo al igual que licenciado bajo una Creative Commons Attribution License que permite a otros compartir el trabajo con un reconocimiento de la autoría del trabajo y la publicación inicial en esta revista.