Effectiveness of a physically active learning program on indicators of physical activity, well-being and academic performance in students
Resumen
The aim was to analyse the effects of a programme made of physically active lessons on primary education students' level of school physical activity, physical fitness, school life satisfaction and academic performance. A quasiexperimental methodology was applied and 50 fifth-year primary education students (Mage = 10.62; SD = 0.57) participated. The experimental group (n = 25) enrolled in a physically active learning programme within the bilingual Science subject for eight weeks. One physically active lesson was included per week, in addition to the two Physical Education sessions. The results revealed that the physically active learning programme generated a significant increase in students' physical activity during school time (p < .05), several physical fitness variables, the student-teacher relationship, the interest in the subject and perceived health. These findings evidenced the importanceof including physically active lessons during school hours,in order to improve the low physical activity levels currently shown by primary school students.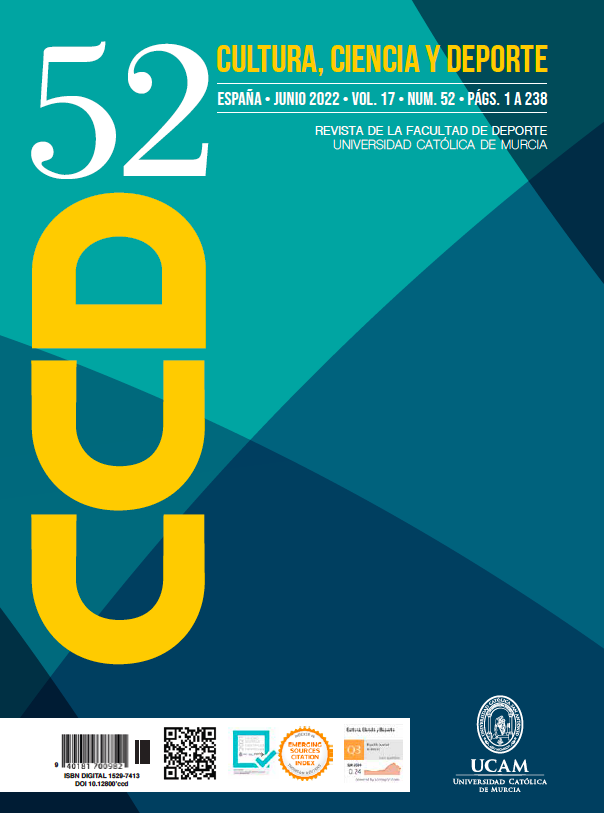 Cómo citar
Pulido-Gil, J. M. ., Sánchez-Oliva, D. ., López-Gajardo, M. Á., Ponce-Bordón, J. C., & García-Calvo, T. . (2022). Effectiveness of a physically active learning program on indicators of physical activity, well-being and academic performance in students. Cultura, Ciencia Y Deporte, 17(52). https://doi.org/10.12800/ccd.v17i52.1792
Sección
Artículos / Articles
Licencia
Derechos de autor 2022 Creative Commons Attribution License
Esta obra está bajo una licencia internacional Creative Commons Atribución-NoComercial-CompartirIgual 4.0.
Los autores que publican en esta revista están de acuerdo con los siguientes términos:
Los autores conservan los derechos de autor y garantizan a la revista el derecho de ser la primera publicación del trabajo al igual que licenciado bajo una Creative Commons Attribution License que permite a otros compartir el trabajo con un reconocimiento de la autoría del trabajo y la publicación inicial en esta revista.