Anthropometric profile in young swimmers
Resumen
The study of body dimensions and proportions through anthropometry is important for the identification of young talents in swimming. Anthropometric studies of swimmers in the Spanish population are scarce. The main objective of this study is the description of anthropometric profile in young swimmers, differentiated by sex and styles. 34 swimmers (19 boys and 15 girls) of national competitive level, aged between 14-17 years were analyzed. Measurements were taken by two accredited anthropometrists following the Society for the Advancement of Kinanthropometry (ISAK) anthropometric protocol. Body composition was calculated using the 4- component model and the Heath-Carter somatotype. The sample was differentiated between swimming strokes to examine possible differences between groups. Significant differences (p <0.05) were observed by sex in basic measurements, folds, perimeters and diameters, but no significant differences were observed by styles. The somatotype of the sample was balanced mesomorphic, being ectomesomorphic in boys and mesoendomorphic in girls, with values similar to those observed in the bibliography. Anthropometric assessment should be considered to monitor the development and detection of possible sports talents in swimming.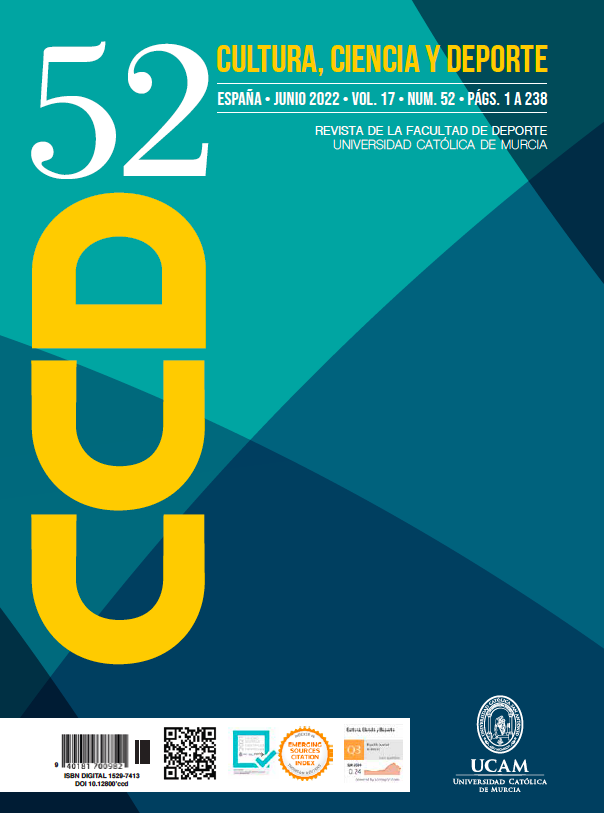 Cómo citar
Jiménez Alfageme, R., Redón Jordán, B. ., Hernández Camacho, J. D., Sospedra, I., Férriz-Valero, A., Soriano, J. M. ., & Martínez-Sanz, J. M. (2022). Anthropometric profile in young swimmers. Cultura, Ciencia Y Deporte, 17(52). https://doi.org/10.12800/ccd.v17i52.1845
Sección
Artículos / Articles
Licencia
Derechos de autor 2022 Creative Commons Attribution License
Esta obra está bajo una licencia internacional Creative Commons Atribución-NoComercial-CompartirIgual 4.0.
Los autores que publican en esta revista están de acuerdo con los siguientes términos:
Los autores conservan los derechos de autor y garantizan a la revista el derecho de ser la primera publicación del trabajo al igual que licenciado bajo una Creative Commons Attribution License que permite a otros compartir el trabajo con un reconocimiento de la autoría del trabajo y la publicación inicial en esta revista.